Wizard World New Orleans! Took me a while to post because it took me a while to RECOVER. Rockin' show!
First time in New Orleans for anything, much less a completely wonderful Wizard World. They do it right: exciting guests, great energy, some truly cool fans. Red Stylo Media had a crazy good table right in the center of the action, next to wonderful artist and zombie master Arthur Suydam and fellow SCAD-ie, artist Ken Meyer. Saturday we introduced a great horde of folks to AZTECA and The Poe Twisted Anthology. By Sunday we'd sold out of Issue 1 and were down to my very last trade! Great feedback on all the books and folks returned the second day to let me know they were ready for more! Wizard World's film crew even stopped by the table to ask questions about upcoming projects from Red Stylo Media, and we'll update Facebook and Twitter when that footage is available on Wizard World's site. Success by every measure, and I could not have asked for more.
Which is why what happened next is so cool.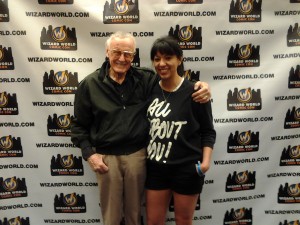 Why, yes. Yes that is Stan Lee.
Artists may tell you that, when it comes to comic conventions, the show is often only half the show. You're there to connect with your audience and your industry. Wizard World show organizers are great about providing those opportunities for creators, and special thanks this time round goes to Peter Katz, who very generously arranged for a quick meet with comics legend Stan Lee!
I love comics and so, to a fan like me, Stan Lee is man of accomplishment on a scale at which personality doesn't matter. The man could be anything and people would still show up over and over again–he's an icon! And yet you couldn't imagine a more gracious, warm and funny human being. No clue how many shows he's attended or fans he's met, but the guy lights up the room and treats every person he talks to and every question he answers as though he showed up just for you. Someone did ask a question about what he thought of modern-day comic art and Stan offered some cool insight about how the secondary market for comic pages post-publishing has a major influence on panel choices where it used to be more about the best storytelling (something for a writer and editor like me to chew over the next time I see pages). I get tongue-tied in such situations so I didn't have any questions, though it occurred to me later that what I really wanted to ask was to see the man's legs: he wears Shape-Ups!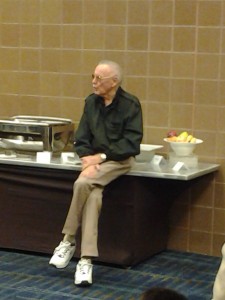 Dear Mom: you and Stan Lee wear the same shoes. I'm never going to make fun of you about them again.
Ok, yeah, that's a total lie, I'm making fun of you in my head right now.
Ha! Shape-ups!
And then…and then…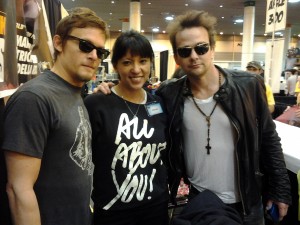 Ladies, gentlemen, please… Compose yourselves. It's JUST the Boondock Saints. =)
It's kind of fuzzy how the chance to meet The Boondock Saints even happened–though again, Peter Katz has something to do with it. I don't remember because I was so psyched when I found out it was going to happen, I tripped over myself and I think I hit my head! Concussion notwithstanding, I did have the presence of mind to grab a stack of comics from my table (oh, gosh, at least I hope it was my table!) and waited patiently for my introduction.
This is where it gets bad. Not kill myself bad, but…embarrassing. First, Norman Reedus and Sean Patrick Flanery are extremely good looking men. And they wear sunglasses. Indoors. It's intimidating. Second, I have had a crush on Sean Patrick Flanery since I was 16 years old (any of you remember The Young Indiana Jones Chronicles?) And Norman Reedus is just so cool (Norman, I loved you in Blade II!) And they're both such good actors. And…yeah. Introductions were made and I swear to you, I SWEAR TO YOU, they both turned around to look at me, at the same time. In slow motion. With their sunglasses on. And what did I do? I shoved AZTECA floppies into both their faces with a very rushed, "I wrote this!" and I may or may not have tacked a, "…for you," onto that sentence.
They handled this with grace and style. Norman Reedus is a very sweet guy and I think that, had I the presence of mind to (a) act like I'd been there before and (b) talk like a human being, he would have talked back. And SPF? Last thing I remember he was looking at my books. You know..touching them! MY books! Indy (I mean Sean!) might have talked to me too. Instead, in the moment, all I can think is that I just shoved comic books in the guys' faces and I should get rid of the incriminating evidence so that maybe they'll forget I'm a total fan and WANT to talk to me instead of just being charming and polite. And so I frantically lunge sideways to put the rest of the books down–down anywhere! And when I'm back upright again…they've both turned back to their signing table and moved on. Doh!
I think I was much more smooth (read less of a wreck) meeting the wonderful Paul McGillion. Not just a fine actor, he's a fantastic singer and rocked Bourbon Street at karaoke the first night out! Congratulations are in order as well–his family is about to get bigger! (No pic of this one, sadly, but the man is super fun.)
New Orleans was a blast. Super thankful, again, to Mr. Katz and the Wizard World crew for a great weekend. Thanks also to Nathan Edmondson, Saira Ramos, and Brenda Johnson, for charming dinner conversation and hurricanes! As ever, the lovely and talented Sara Richard and Scott Ambruson were there to make the show outstanding. And a thank you and looking forward to hanging with you more to MC Jarrett Crippen and artists Matt Fletcher and Chris Uminga!
See everyone next week at MEGA CON in Orlando, Florida!